WORLD'S LARGEST SWIMMING POOL
By Eric - 5:52 PM
I just got these pictures and entry copied from one of my regular readers and link blogger as well...name Aron Wong the World's Largest Swimming Pool ever built......take a deep breath as you look at it and imagine the sizes....

The world's largest swimming pool are on a mission to spread their technology across the world. Already drawing the crowds in the South American resort of San Alfonso del Mar in Chile.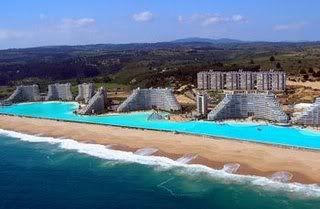 This artificial lagoon and swimming pool is eight hectares in size and contains an incredible 250,000 cubic metres of water, with self-filtering water from the Pacific ocean, there should be enough swimming room for all the guest. Equivalent in size to an incredible 6,000 standard domestic pools. The revolutionary clear water artificial lagoons, transparent to a depth of 35 metres and unprecedented in design and construction methods, are the brainchild of Crystal Lagoons founder, biochemist and Chilean businessman Fernando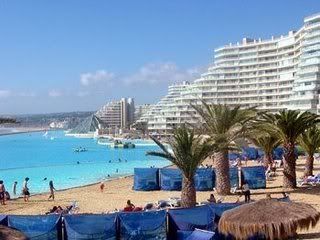 I could not imagine enough to swim such a large swimming pool..that tires you when you reach at the other side of the pool....